Good morning!
So...It's way too early for me to be awake... But maybe it's because I'm really excited about my life and where I think things are headed or maybe it's because two years ago today I released my EP "The Last Three Hours".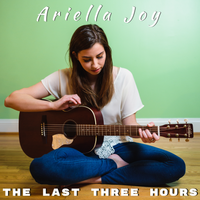 It's probably not because of the second reason. I'm sitting here in what I call the "creative room". I'm sitting on the floor because the rug is really comfortable. I'm up wayyyy too early but I would still say it's a good morning. Now if anyone stepped in here they would think it's an utter mess. But I know where 90% of the stuff in this room is. I'm moving out of this place in October and to be quite honest, I'm sad about it. This house in some ways has been my own little studio. I used it and abused it but it feels like home. I made it home.
Now I'm leaving it without knowing exactly where I'm headed next and I'm a little sad about that. 
~~~
I hope today will be a good day. I think it will because I'll just keep reminding myself that two years ago I made the biggest step in my career by releasing my EP. And my party was two years ago to the day. I don't know why I thought I had to have my EP release party on the actual day that I released my EP but honestly I'm glad I did because it was a badass party. All of my favorite people (at the time) were there. I planned it. I payed for it, and I had a great time! I even had a signature drink "The Last Three Hours" (it was basically a mojito... or a mint mojito?? Or is "mint mojito" redundant?) Anyway... It was an awesome party.
So happy two year annivarsary to "The Last Three Hours" *clinks imaginary mint mojito glass*
-Ariella